A HISTORY OF THE VIRGINIA ANGLERS CLUB
Founded 1961 – Richmond, Virginia
Organization Meeting January 1960
Left to Right: Bill Rothert (VP), Winston "Monk" Montique (President),
Moses Nunnaly (Treasurer), Lewis Pendleton (Secretary)
Left to Right: Joe Brooks and Stuart Apt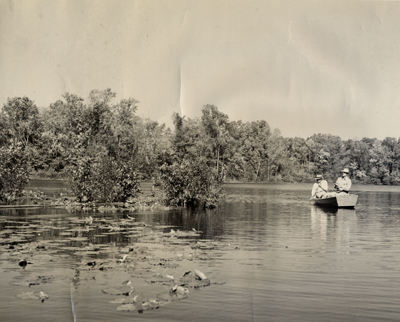 Moses Nunnaly in stern and Joe Brooks.
Nunnaly Pond, Charles City, VA. Circa 1950's-1960's
Left to Right: Joe Brooks and Moses Nunnaly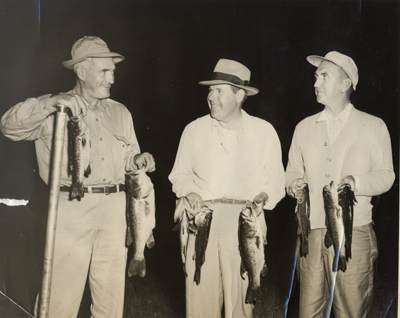 Left to Right: Joe Brooks, M.D. Nunnaly, Jr. and William F. (Bill) Rothert.
At pond of M. Nunnaly in Charles City County, VA. Circa 1950s-1960s.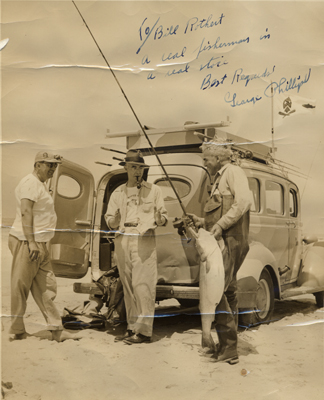 On the back is written: "To the Sportsman Shop."
Photo by Frank and Dick Woolner, Schrewsbury, Massachusetts.
Bill Rothert is believed to be in the center.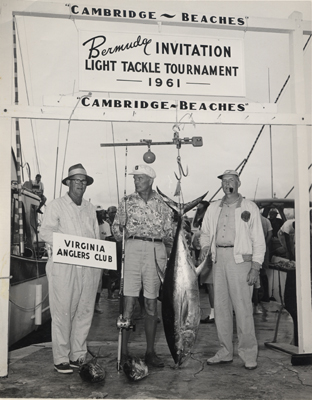 Winston "Monk" Montique (Left) and Lewis Pendleton (right)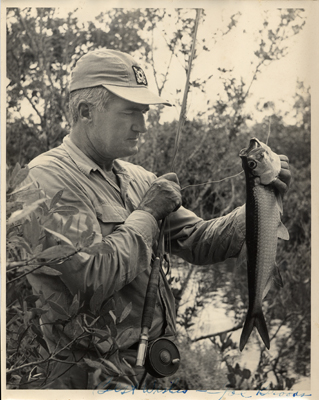 Joe Brooks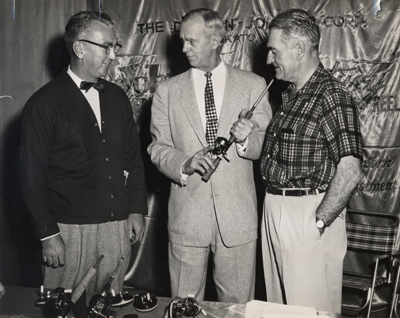 Left to Right: Bill Rothert, Unknown (possibly a factory rep for the reels) and Joe Brooks.
This is taken at the Richmond Arena in the 1950's or early 1960's
during the annual "Sports Show" trade event held there.
George Phillips, 7 lb 8 oz. muttonfish. Isle of Pines, Cuba.
Caught on "Fat Boy" Spinning Lure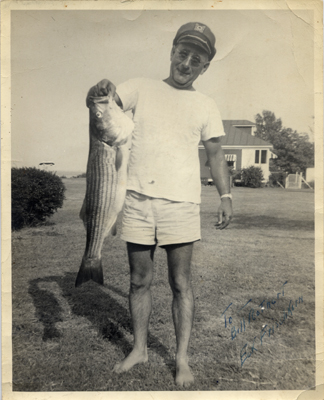 Likely Eck Frischkorn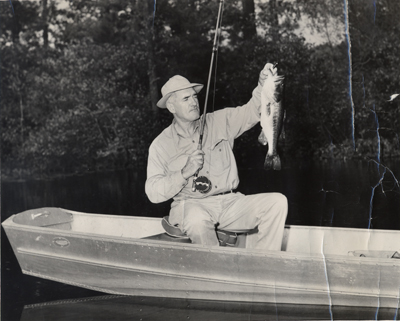 Joe Brooks at Nunnaly's Pond in an aluminum Feathercraft boat.
This series of pictures, several of which are in this collection,
were taken for a magazine spread of some sort by a
professional photographer.
Joe Brooks at Nunnaly's Pond
Joe Brooks at Nunnaly's Pond